Het Cybersecurity and Infrastructure Security Agency (CISA) van de Amerikaanse overheid, dat eerder nog bekend stond als US-CERT, heeft een tool uitgebracht waarmee organisaties kunnen testen of er binnen hun netwerk kwetsbare Citrix-servers worden gebruikt.
Een kwetsbaarheid in de Citrix Application Delivery Controller (ADC) en Citrix Gateway, die respectievelijk bekend stonden als de NetScaler ADC en NetScaler Gateway, maakt het mogelijk voor aanvallers om het systeem volledig over te nemen en mogelijk het achterliggende netwerk aan te vallen. De kwetsbaarheid werd vorige maand door Citrix bekendgemaakt, maar een update is nog altijd niet beschikbaar. Wel heeft het bedrijf mitigatiemaatregelen gepubliceerd.
Desondanks vonden onderzoekers wereldwijd meer dan 25.000 kwetsbare Citrix-servers die vanaf het internet toegankelijk zijn, waaronder 713 in Nederland. Inmiddels zijn er exploits online verschenen die misbruik van de kwetsbaarheid maken en wordt er actief door aanvallers naar kwetsbare servers gezocht. Het Nationaal Cyber Security Centrum van het ministerie van Justitie en Veiligheid riep organisaties op om maatregelen te nemen.
Via de tool van het CISA kunnen organisaties controleren of ze risico lopen. Een vereiste is wel de aanwezigheid van Python. Naar verwachting zal Citrix volgende week met een beveiligingsupdate komen. Volgens beveiligingsonderzoeker Florian Roth kunnen organisaties die de mitigatiemaatregelen niet voor het uitkomen van de exploit hebben doorgevoerd eigenlijk hun Citrix-systemen niet meer vertrouwen.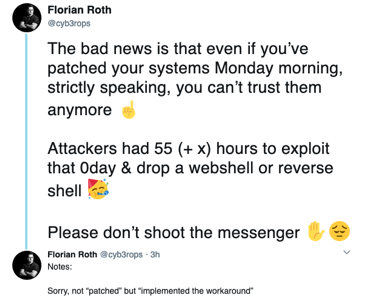 Bron: Security.nl